ⓘ The investors who contribute the first $314,454.00 get better terms on this offering. Full offering terms: www.wefunder.com/frankiesstoryllc
A STORY THAT MUST BE TOLD.
Pharma is based on the incredible true story of Dr. Frances "Frankie" Kelsey and her fight to keep a dangerous drug from being approved for the US market. Risking her career and family along the way, Frankie wages war against big Pharma in 1960, resisting intense pressure and threats from inside the FDA to expose the biggest unmonitored drug trial in US history.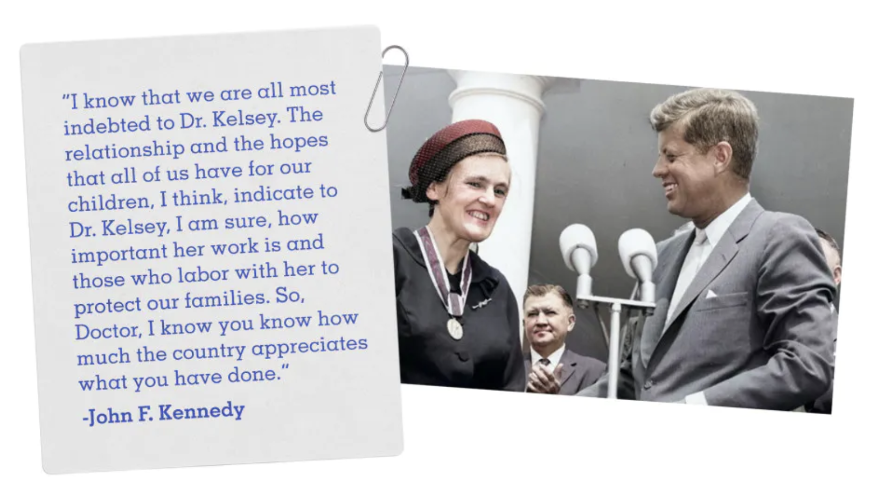 Dr. Kelsey's heroic efforts are an example of what one person can do to prevent disaster and change the course of history.
Frankie's story will inspire audiences for years to come and shine a light on the overlooked tragedy that has impacted tens of thousands of people around the world. Her battle was one of David and Goliath proportions: One woman taking on the billion-dollar pharmaceutical industry to expose corruption and prevent a national tragedy.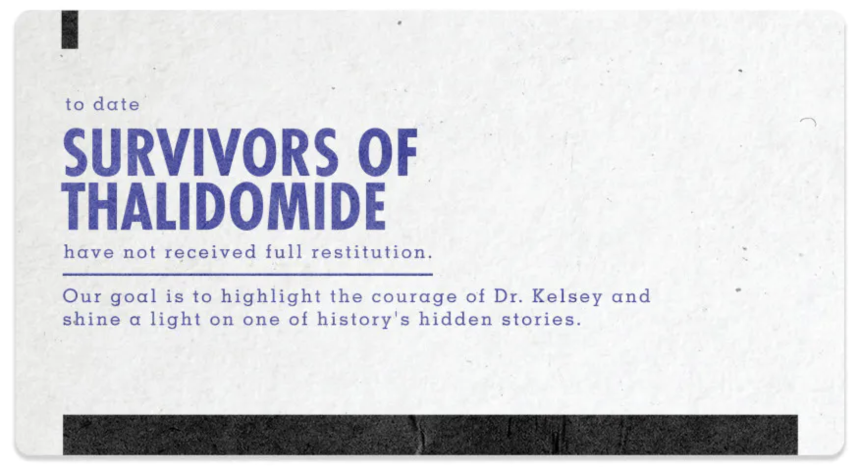 MORE THAN A MOVIE.
Though Dr. Kelsey's efforts prevented a US disaster, many around the world suffered and the ramifications of this historical event still linger today. Known widely as the largest manmade medical disaster in history, it's estimated that over 10,000 babies were affected by the drug, thalidomide. Helmed a "miracle drug" and given to pregnant women as a treatment for morning sickness, the pills caused severe birth defects. To date, survivors of thalidomide have not received full restitution. We hope to encourage survivors, by showing them that their story has not gone unnoticed, and impact audiences to take action in the face of injustice. Pharma aims to shine a light on this hidden history and lend a platform to survivors of the tragedy. Hear from some of the survivors and why they believe this movie needs to be made.
Pharma is an important and critically relevant story for this moment in history. As we emerge from a global pandemic and new information comes to light each day, Frankie's story highlights the risk of placing trust in huge corporations and government entities without proper oversight.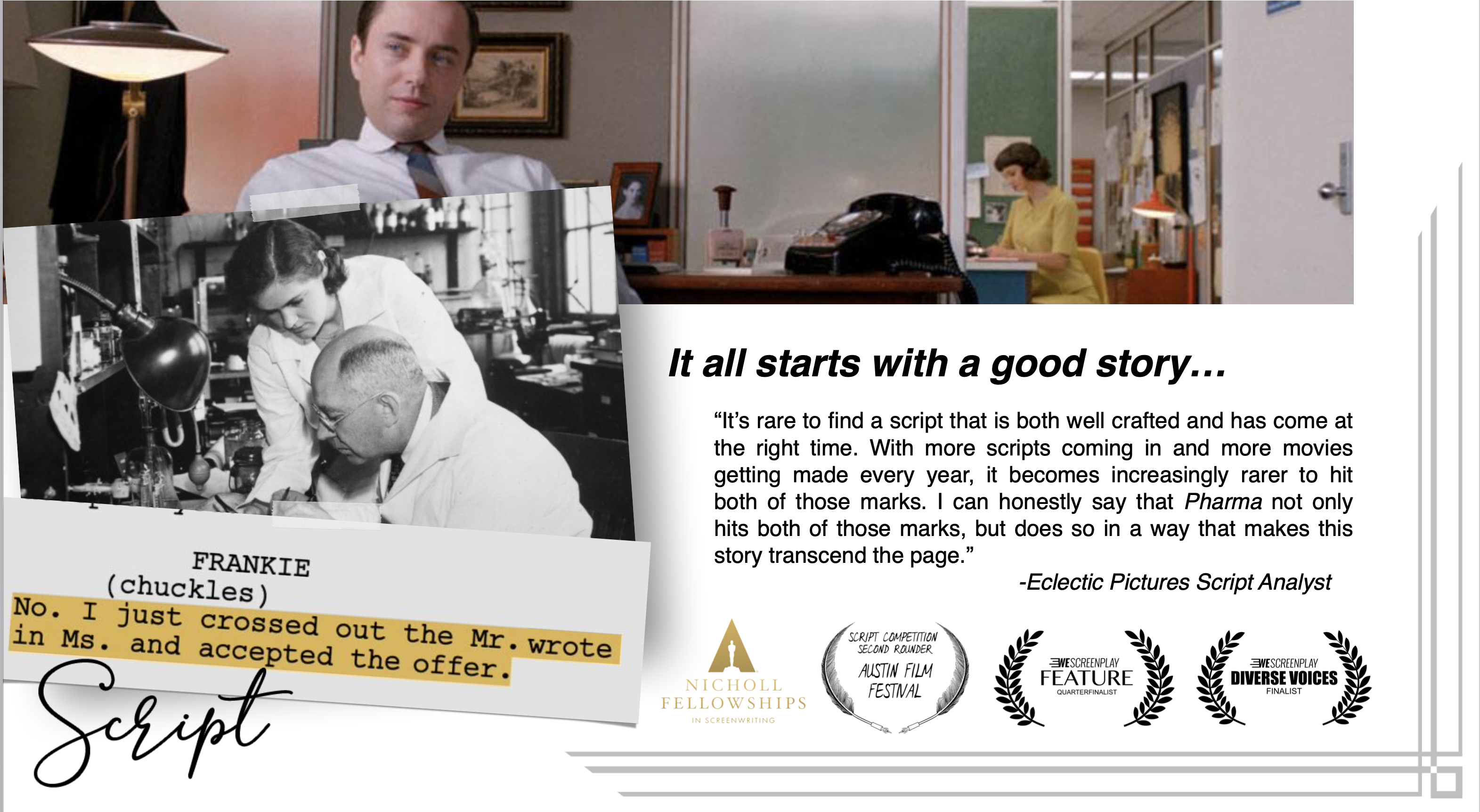 In addition to an award winning feature length script, the proof of concept and short film, Pharma, has entered the 2023 festival circuit with multiple official selections, nominations, and category wins. The caliber of the project produced on a micro- budget exhibits the skill and indie grit that the team brings to the table.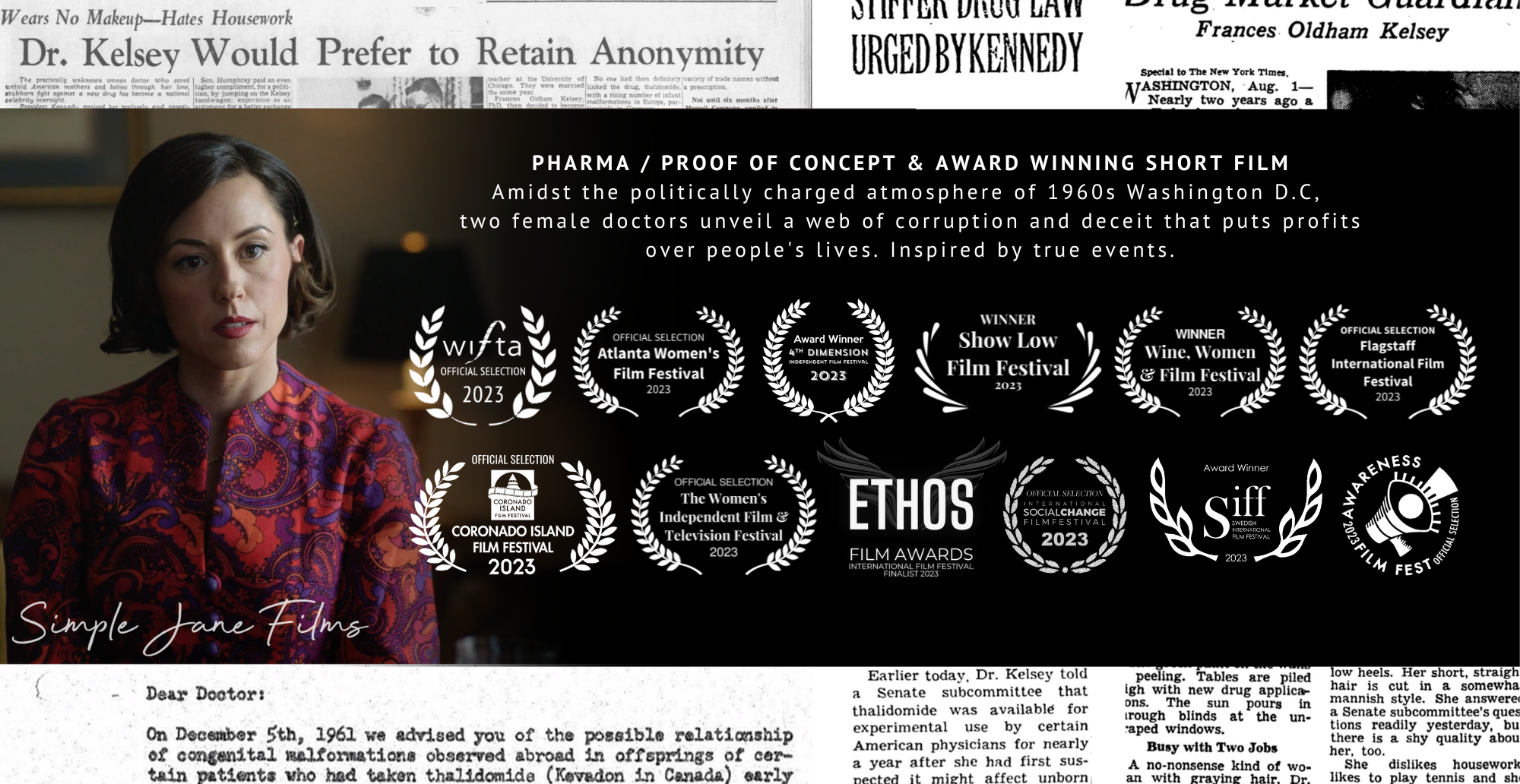 Lead Producer, Ashley Bratcher, is an award winning actress and the star of the box office hit Unplanned. Unplanned premiered at number 4 its opening weekend in the box office among major Hollywood Studio competition including Captain Marvel, Us, and Dumbo. According to Box Office Mojo, the film took in an estimated $6,110,000 at the end of the weekend, with a cumulative per-screen average of $5,770 on just 1,059. To date, it has grossed over $21 million dollars off of a modest $6 million dollar budget.
Ashley's heart for telling true stories that encourage positive change has been the driving force for bringing Pharma to the screen. In 2020, Ashley founded her own production company, Simple Jane Films, to focus on creating content about ordinary women with extraordinary stories. She is backed by an executive team with a combined 40+ years experience in filmmaking. Their areas of expertise include screenwriting, production, casting, public relations, marketing, business law, and distribution.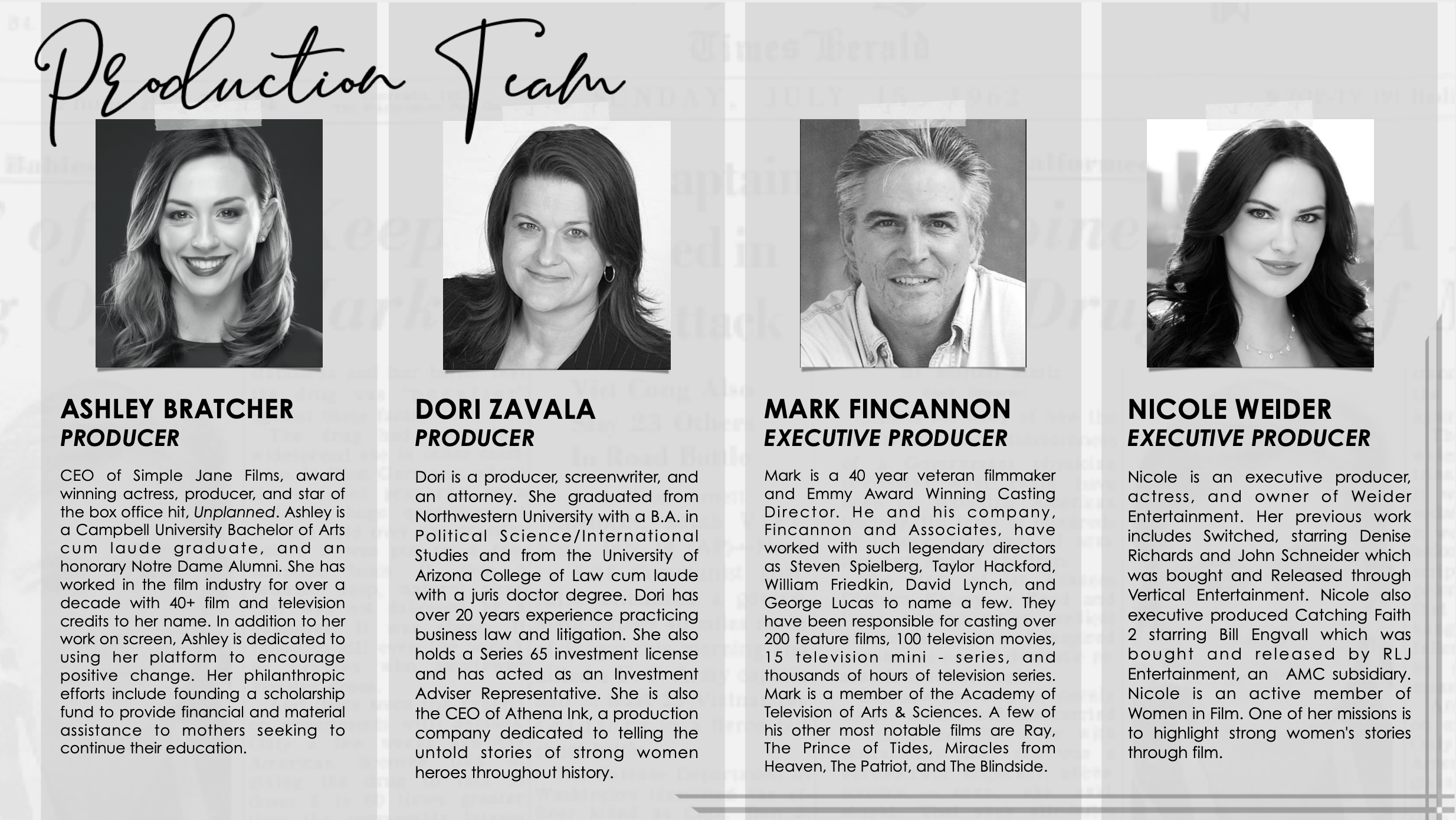 Our goal is to raise $5 million dollars for the development, production, post production, and attachment of key talent through our crowdfund raise. Part of this budget will be allocated to ongoing development, with the remaining balance allocated towards production and distribution. At the $2 million dollar mark, the film will begin pre-prodution and start filming. If you decide to invest, you'll be raising awareness that this story should be seen on screens around the world.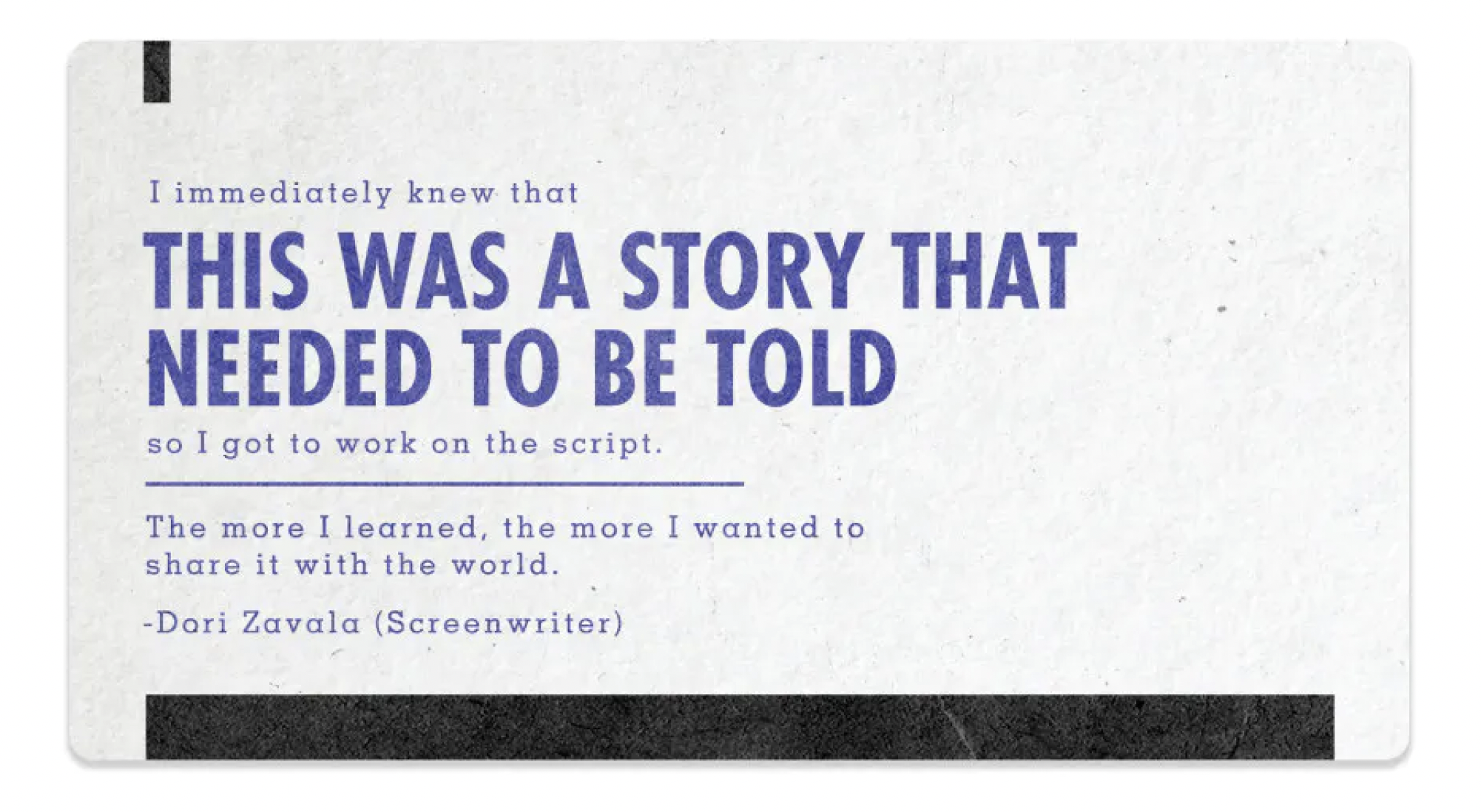 Though investing in movies is incredibly risky, and a return on investment can never be guaranteed, we feel that the profitability of biopics has remained consistent over the years. Films such as Hidden Figures, Erin Brockovich and The Imitation Game have realized enormous profits at the box office. These kinds of movies often become classics, proving the test of time, and creating more downstream revenue for years to come.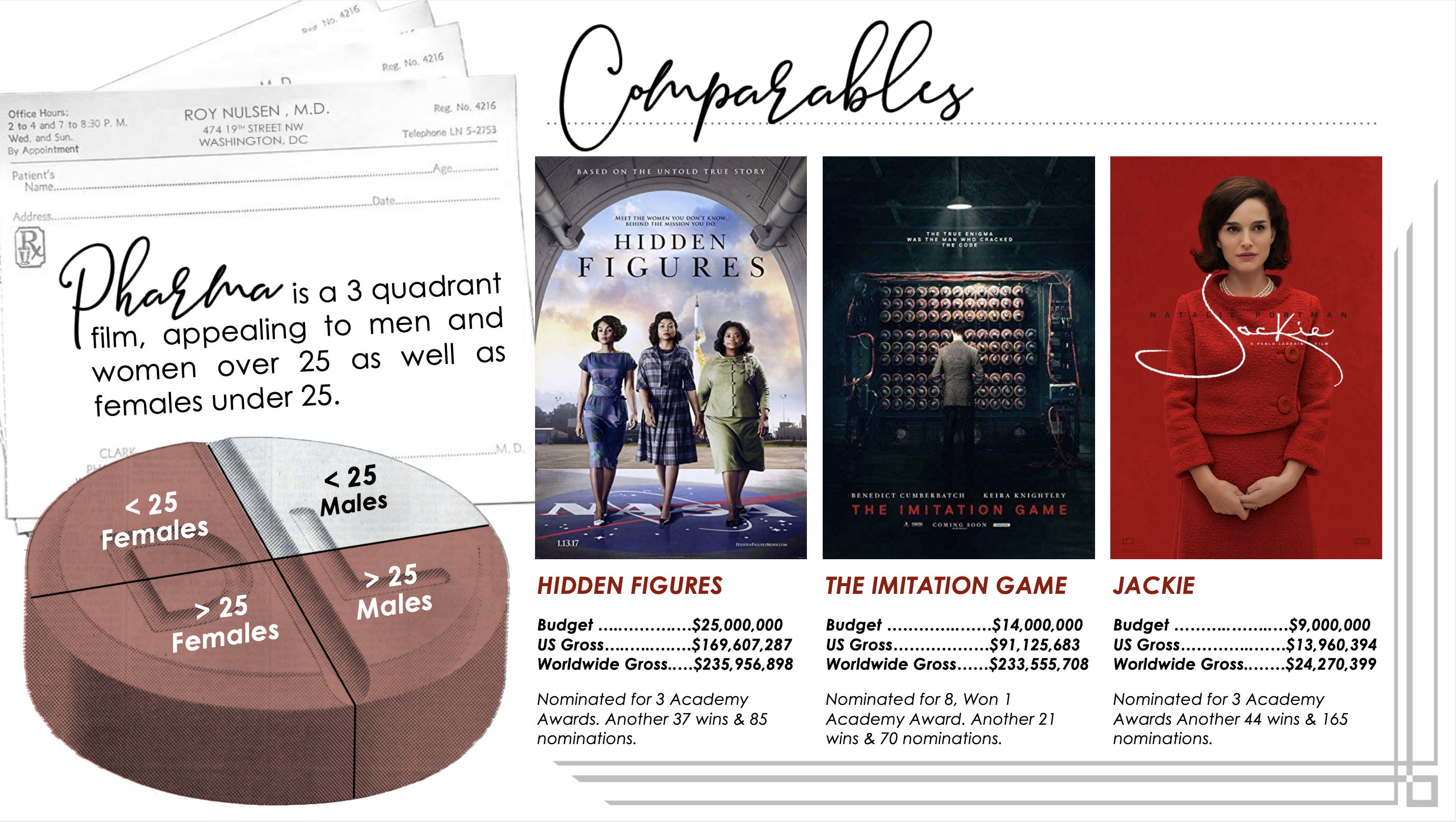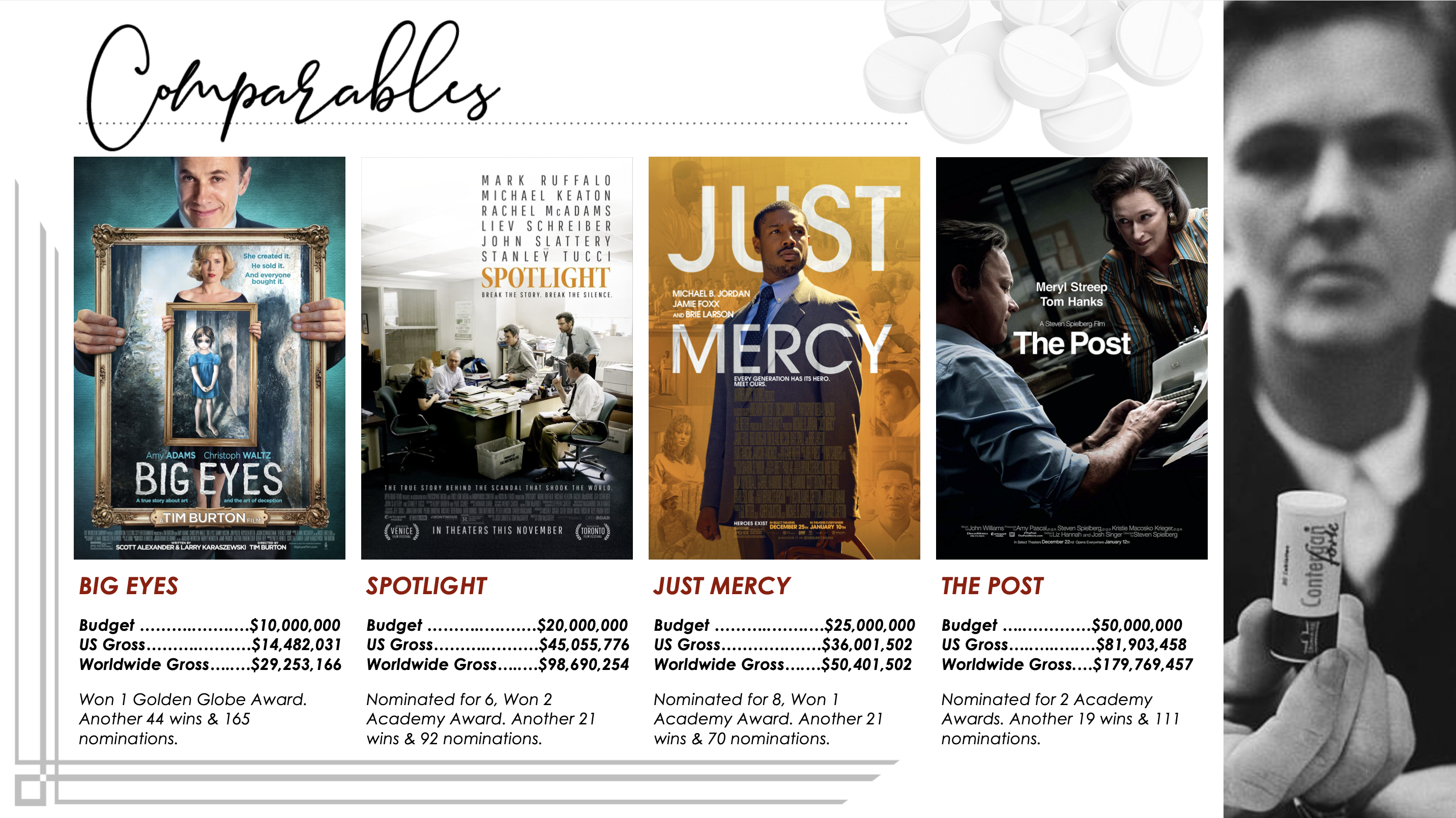 *Success in other projects does not guarantee success in Pharma. There can be no assurance that the projected results will be obtained, and actual results may vary significantly from the projections.
Pharma is a story of investigative action, emotional drama, high stakes, and courage. This is your chance to be a part of movie history, creating a legacy with a movie that explores history while entertaining, engaging, and inspiring its audience.
In addition to making a really amazing movie, we've always wanted to build a community where our fans and investors feel connected to our project beyond just a dollar amount. We want YOU to be able to share this journey with us and have an experience that makes you excited and proud to be a part of the Pharma investor family.
So, we're offering some pretty cool perks as a thank you for your investment! Not only will you own part of the movie, but you'll also be part of the experience. You could visit set, be in the movie, and even walk the red carpet.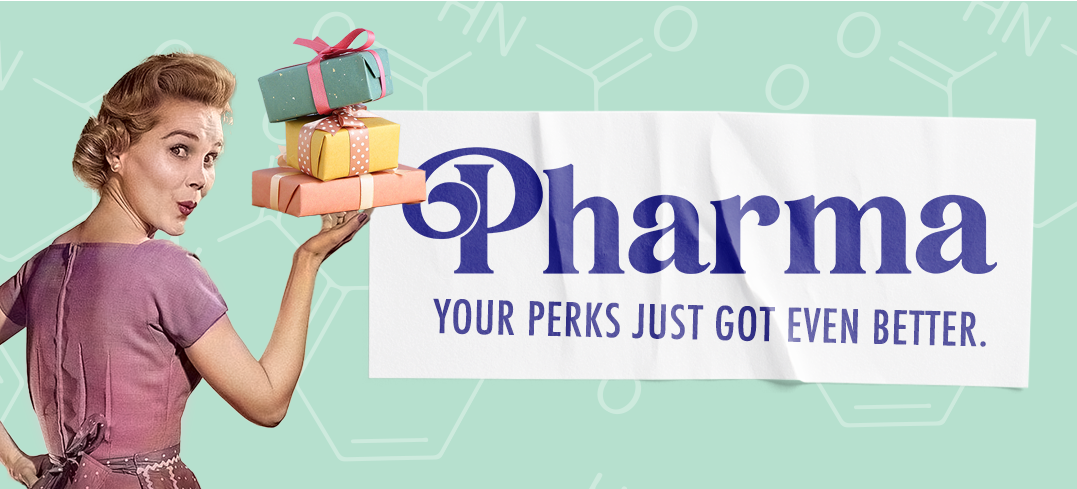 $100: Access to INVESTOR ONLY live virtual roundtable discussions with the filmmakers to discuss behind the scenes, chat with special guests, and participate in Q&A.
$500: Full Credit Roll Mention. Ever wanted to see your name on the big screen? This perk will get your name listed in the Cinema version credit roll!
$1,000: BE IN THE MOVIE! You'll receive a guaranteed spot to join us for a day of filming as an extra in the movie! At this level, you'll also be entered to win the ultimate prize of a speaking role in the film.*
$5,000: Receive a signed copy of the Pharma film poster and early, exclusive access to the Director's Cut of the Trailer for the film before it is released to the public.
$10,000: Get a first look at the script! This script has been kept top secret. With this perk, you'll be granted exclusive access to read the script before it makes its way to the big screen. Additionally, you'll receive a signed copy of a shooting script upon release of the movie.**
$20,000: Invitation to the World Premiere! You'll join us on the red carpet as we celebrate the opening of the film. Mingle with celebrities and be the first to watch the story come to life on the big screen!**
$50,000: Own a piece of movie memorabilia! This perk is for our movie buffs who love collector's items! In addition to receiving your choice of a Limited Edition NFT or autographed movie still from the feature, you'll be gifted a one of a kind prop following the release of the film.
$100,000: Associate Producer Credit and a day on set! Enjoy a full day on set with your own seat in video village with our team where you'll watch the script come to life before your eyes. You'll also receive an associate producer credit that will be included in listings on IMDB and in the cinema version credit roll of the film.*
$250,000: Our top investors earn a prestigious Executive Producer Credit that will be included in listings on IMDB and the cinema version credit roll of the film. In addition to a full day on set, Our Executive Producers will receive 2 VIP passes for the world premiere that includes a private meet and greet with the stars and a trip down the red carpet.*
Still making up your mind? That's okay! Join our mailing list to stay up to date and get notified before the opportunity ends.
Would you rather make a tax deductible donation instead? That's okay too. Donate via our fiscal sponsor here.
*Travel and lodging not included. **A signed NDA will be required prior to receiving a copy of the script.
© Copyright 2023 Frankie's Story, LLC. | 2550 Sandy Plains Rd. Suite 225-263 Marietta GA 30066 | Hello@pharmathemovie.com